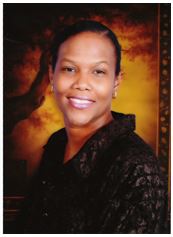 Minister Shirley Hunter was born in Chicago, Illinois to Mr. and Mrs. Walter Mackmore and was raised in that city. She is the wife of Pastor Albert Hunter Jr. and the mother of three children, Imari 23 years old, Joshua 21 years old and Jemil 11 years old, who is adopted.
Minister Shirley Hunter graduated from Curie Metropolitan High school. Directly after high school she began working for Jenny Craig Weight Loss Centers. She started out as a receptionist and worked there for 11 years. She soon advanced to Center Director and was in management during her last six years of tenure with the company.
Minister Shirley knew she always had a passion to work with children. So with the help of God, inspiration from her own two children and the encouragement of her husband, she resigned from Jenny Craig and together they began a Home Child Care Service named A Chosen Generation.
Shortly after starting her business, she enrolled in South Suburban College and obtained an Associates Degree in Early Childhood Education. Their Christ centered childcare business has been successful for the past 18 years. With the success of their home business, Minister Shirley and her husband started a transportation service, moving them into full time entrepreneurship.
Minister Shirley's strong faith in God led her to pursue and obtain the credentials of ordination as an Evangelist under the leadership of Apostle Richard Daniel Henton of Monument of Faith Church in Chicago, Illinois. Minister Shirley and her husband are also founders of A Peculiar Peoples Church International Ministries and Nemuel Community Services where they mentor young girls and boys. Minister Shirley has since obtained her Bachelor's Degree in Early Childhood Administration and is currently pursuing her Master's degree in Business Administration.